Ok, so the picture does look, shall we say, a little incongruous: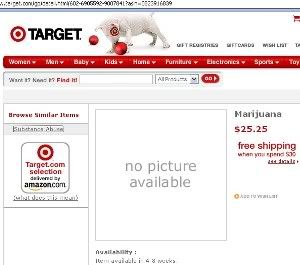 (and yes, in addition to marijuana, Target is apparently selling crack as well.)
A number of blogs have called this out (one two three four five... ) as a PR crisis in the making for Tarzhay.
Is it the work of hackers? Was it done by a disgruntled employee? Or were these items the Mountain-Dew-and-pizza-addled cries for help of programmers being worked to within a hairsbreadth of their physical and emotional limits?
Nope.
Despite the initial appearance of a customer and PR nightmare, Target really is selling these items. They're...the titles of, respectively, a book and a DVD .
UPDATE: Target no longer finds this as funny as we do. (via BoingBoing)